I'm so behind on everything y'all. Like, legit, everything. Dishes, laundry, life. Certainly on posting my author spotlight. But, better late than never, and without further ado, 
Erika enjoys long walks on the beach, and kidding, kidding. 
She's actually an award-winning author and life-long romance lover.
Erika was raised on the classics, and didn't discover romantic fiction until later in life. But, from that moment on, she's been devouring the genre and has found her true voice as an author. 
Over three decades she's written poems, screenplays, plays, short stories, and all kinds of women's fiction novels. She's married to the love of her life the mother to four children. And while she has lived in two countries and seven states, but give her pen and paper, a stack of good books, and a steaming mug of vanilla chai latte and she can make her home anywhere.
Let's chat a bit about her books… 
BLURB: 

From award-winning author Erika Kelly comes the first in a hot new series about a rock star on his way up—and the woman he wants to take all the way…
Emmie Valencia has what it takes to be the music industry's hottest band manager. She just needs to prove it. Determined to discover a killer new band, Emmie is ready to make her move. First stop: Austin, Texas.
As a sizzling hot lead singer, Slater Vaughn has no trouble raising heart rates—but his band's been flat-lining for years. When Emmie, his bandmate's sister, crashes with them in exchange for some free management, her industry know-how lands them a spot in the biggest music festival in Texas. But it isn't just her business acumen that catches Slater's attention. Emmie is sexy and warm, and—for the first time in his life—he wants more.
But as irresistible as Slater is, Emmie is done with musicians. In her experience, a man can't be a rock star and someone to trust with your heart—but Slater is determined to show her he's both.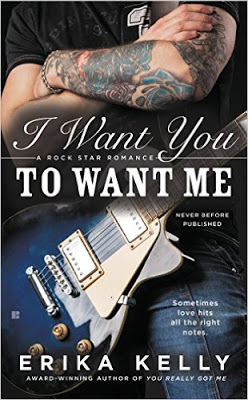 From the award-winning author of You Really Got Me comes the next romance in her red-hot Rock Star Romance series, about a rocker who lives for his music—and loves with all his heart.
Derek Valencia finally has the success he's worked so hard for. His band is touring its debut album and great reviews are rolling in. But when pictures of him tossing naked groupies off a balcony go viral, it's damage-control time. He's assigned a "babysitter" whose sole job is to keep him out of trouble.
Violet Davis swore she'd never work in the music industry again, but being a minder for a rock star will earn her enough to pay off the mortgage on her wildflower farm. And for a girl brought up in the foster care system, owning her own home means more to her than anything.
Though at first the two bang heads, the rocker and the farm girl soon grow close and realize that they make sweet music together. But can a girl who craves the stability of life on a farm really make it work with a man whose life is spent on the road with his band?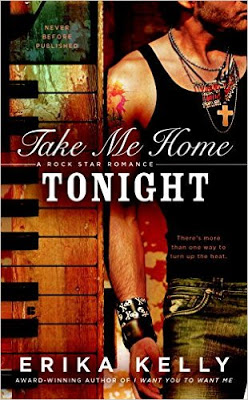 BLURB:
A rocker gets a taste of unexpected passion in the latest red-hot Rock Star Romance from the award-winning author of 
I Want You to Want Me
.
Calix Bourbon might seem like a free spirit, but that's all a front. In reality he's just trying to keep his fractured family together while working as a session musician. When Blue Fire hires him to replace their keyboardist, Calix is determined to make the most of the opportunity—but he can't help being distracted by the band's sexy personal chef.
Mimi's temporary gig is great, but she has her heart set on auditioning for a televised cooking show. There's just one problem: she only has a week to acquire the skills necessary to survive the competition. Luckily, the band's new keyboard player can teach her exactly what she needs, in the kitchen and in the bedroom…
BLURB: 
From the award-winning author of TAKE ME HOME TONIGHT comes the final story in her red-hot Rock Star Romance series, about a loner rocker finding his perfect duet.
When Cooper Hood left Snowberry, Montana ten years ago, he swore he'd never go back to the town that painted him with the same brush as his addict mother. But right in the middle of his band's national tour, he gets a call to come home: his mom's got a whopper of a secret to reveal.Daisy Charbonneau's in trouble. The talent she hired for her resort's annual Huckleberry Festival just bailed on her, and she's desperate to find a replacement act. Luck turns her way when she discovers her high school crush is back in town—and he happens to be a rock star.
As they work together, a crush deepens into so much more, but who falls in love in two weeks?
Especially when Cooper's never coming back to town, and Daisy's never going to leave it.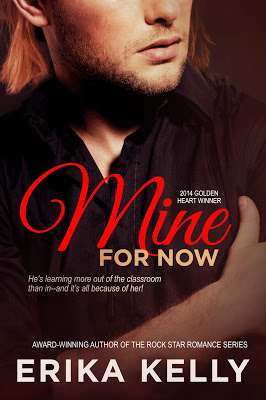 BLURB:
From the award-winning author of the Rock Star Romance books comes a sizzling new series about the O'Donnell siblings. The pull of wild love is irresistible. 
She's had enough drama in her life. 
Nicole O'Donnell is more than ready for the fresh start college offers. After a lifetime of trying to help her alcoholic mom and ex-boyfriend get sober, she's finally learned her lesson: people don't change. They certainly don't change for her. 
He can never leave his drama behind. 
Thanks to his mom's substance abuse issues, Dylan McCaffrey's persona non grata in his hometown of Gun Powder, Colorado. So when he scores a free ride to the top university in the country, he's determined to make something of this fresh start. But his mom has always relied on him, and she's not handling his absence well at all. If he can just keep up his grades, pay her bills, and come home every break, he might be able to pull off this opportunity. 
True love won't be denied. 
No matter how determined they are to steer clear of each other, their combustible connection explodes, especially when Nicole offers Dylan the one thing he can't bear—hope. Once he has a taste of it—and the irresistible force of her—there's no going back. 
But when he falls too deeply, when he loses sight of his priorities, he might just lose it all.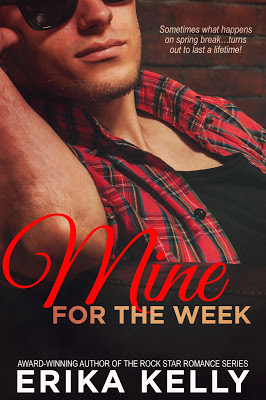 BLURB:
From the award-winning author of MINE FOR NOW comes the next sizzling story in her Wild Love series, about a chance meeting that changes the course of two people's lives.

As the top collegiate shortstop in the country, Ryan O'Donnell's life is about discipline. But a growing restlessness causes him to bail on his baseball team over spring break to join his buddies at a singles resort. He just needs one week to escape his life, and then he'll get back on track. But moments after arriving he meets HER, and the world as he knows it changes irrevocably. It should only be a hookup—that's what spring break's all about—but one taste of this sexy, vibrant woman isn't enough. He has to have her. Even if it's only for a week.

Sophie Valentine—yes, that Valentine—just found out her siblings want to sell off Crazy Hearts—the Peeps of the Valentine's Day world. Upset, she takes off with her friends on their spring break vacation. She only wanted an escape—she never imagined meeting HIM. But he's about to start a Major League Baseball career, and she's launching a fight for her family legacy. They have no future. It's just…she's never felt this way for anyone before.

Are they really going to walk away from this kind of connection…this passion?
So, by now y'all know I ask every author I spotlight a series of questions… Here are the lovely Erika's answers:
1.      When did you realize the power of words?
I guess it was when I read books like Dr. Doolittle, Charlie and the Chocolate Factory, The Phantom Tollbooth, and James and the Giant Peach. They just lit up my imagination—and I wanted to visit those worlds I could see so vividly.
2.      Do you listen to music when you write?
No way! I'm a music fanatic and, MUCH to my family's dismay, I have to sing along with every song. So when I'm writing I pretty much need silence or white noise!
3.      Do you have a go-to writing snack?
I have a go-to writing BREAK snack! Every afternoon, I slip away from my desk to read for a few minutes while devouring a Yasso Frozen Greek Yogurt Chocolate Chip bar. Do NOT tell anybody how delicious they are, or the shelves will be empty in no time. I buy, like, 4 boxes at a time.
4.      Who is your unicorn author?
I have 2. Susan Elizabeth Phillips and Rachel Gibson. The very first romance I read was Truly Madly Yours. That one and Nobody's Baby But Mine are the only books I'll reread. Wait, that's kind of a lie, because I have reread Lisa Kleypas's books, too.
5.      If you could live inside any book for 24 hours, which and why?
You know, I'm going to have to say The Phantom Tollbooth, just so I can go and explore that incredibly cool world. Or maybe Charlie and the Chocolate Factory. If you make me choose, we could be here a while.
6.      What's the one word you always misspell?
Mischief, achieve…yeah, the ie words.
Also, lovely humans, be sure to give Eika a good stalk… 
0